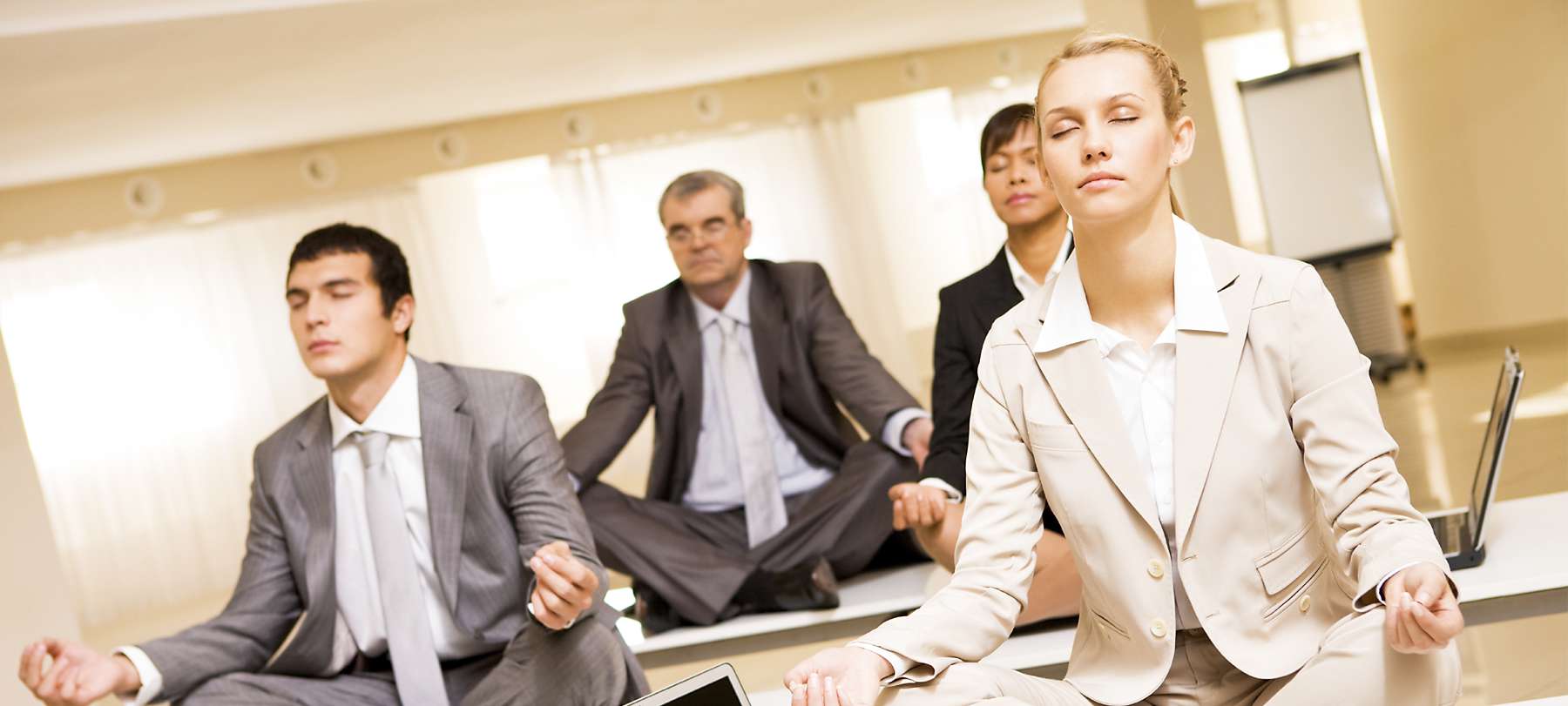 The days are over when corporate employee wellness programs were optional. Today, organizing wellness activities are imperative for the organization to manage retention of employees, enhance their productivity and boost overall work atmosphere of an organization by augmenting their physical and mental health. Investing in employee health as sick employees is very expensive.
Stress Management
Every corporate employee encounters stress due to various reasons such as growing competition, the urge to be the best, peer pressure, social pressure, etc. Eventually, work pressure takes a toll on the employee's health and they tend to take long sick leaves. When a company's employee remains absent at work for a long period, the overall work cycle gets disturbed. It adversely affects the work of other company officials who are dependent or somehow associated with the absent employee. Arranging employee health programs have proven to be a helpful step that results in decreased absenteeism.
Why Yoga?
Corporate professionals encounter a huge amount of stress in their day to day professional life. Yoga is an all-in-one formula that acts as a soothing balm among professionals which alleviates stress. The major techniques of yoga are:
Physical postures
Breath expansion & enhancement
Meditation
Relaxation techniques
Lifestyle management
THE BENEFITS OF CORPORATE YOGA:
Increases employee productivity, decreases stress and anxiety in the workplace
Reduces absenteeism and staff turnover, Improves employee health and wellbeing
Promotes a healthy work/life balance, for these reasons many companies are deciding to put more options in place for their workers to reduce their stress. One of the most popular is setting up yoga lessons at work.
Yoga techniques serve a number of purposes for employees:
Stress Reduction – By teaching people how to focus on their breathing and techniques, the process of yoga can help them remove the anxiety and stress that was controlling their life before.
Flexibility – Those learning yoga are learning how to properly stretch and use their muscles and tendons. This creates an awareness of strain in different parts of the body and hopefully helps to forewarn of any repetitive stress that may lead to injury.
Stimulation from Exercise – Yoga can help people be a little 'more in shape'. As exercise releases endorphins into the system leading to a sense of well-being, Yoga can create a better feeling and attitude towards the work environment.
Morale – Believe it or not, one way to make things safer in the workplace is to boost morale. Higher morale means more employees happy with their job and doing their part to keep things running as smoothly as possible. Yoga can bring employees together and boost morale in your office. When you're ready to bring your office together with a morale boost and help them help themselves to make a safer workspace, consider what offices around the world are doing and consider setting up a yoga program for your business.
We at Trinetra Yoga, have designed and come up with a well balanced yoga program for corporate professionals with an idea of working very closely with every employee during the sessions and enhancing their knowledge , flexibility of postures , physical strength and endurance and giving them mental relaxation with many yogic techniques.
Program Highlights – A snapshot
| S.No | Asana | Pranayama | Meditation Technique | Karma Yoga | Philosophy | Mantra Yoga Sri Bhagwadgita | Sun Salutation | Benefits limitations of All aspects |
| --- | --- | --- | --- | --- | --- | --- | --- | --- |
| Level 3 | 100 Asana | 8 Pranayama | 6 | Tasks Common for all | Snapshot | Snapshot | 5 | Common for all |
| Benefits | Asana strengthen their physical body / Relieves stress/ | Increases physiological age / Good for many diseases / Fills body with vital energy / Stabilizes brain | Enhances physical and mental health. Increase intellect and makes you more Productive | Shed Ego , lust Anger Greed Proud   Emotional attachment   Godly realization | Teaches importance of yoga and to live life without duality   Teaches code of ethics & Ashtanga limbs of purity   Teaches importance of Karma , gyana and bhakti yoga   Teaches yogic healthy diet and lifestyle & spiritual centers of our body | Bhagwadgita teaches the way of life and importance of Karma yoga and other branches of yoga   Teaches ways to live life successfully   Teaches basic principles of the soul and mantra chanting   Chanting purifies mind , body and soul   Chanting makes a person godly   Chanting makes you free from attachment | Strenghtens body   Increases stamina   Burns fat and cholesterol   Makes body flexible   Strengthens internal  organs   Good for longevity   Builds momentum   Makes you alert and confident | Talks about benefits and limitations of all the 7 aspects mentioned |
Program in Detail
Employee yoga program is 7 sequence of Asana's , along with other theoretical and practical aspects of Hatha like Meditation , Kriya , Mudra's , Kundalini , Chakra , Bandha , Nadishodhana , Yoga philosophy , Yogic diet , 5 Prana and 5 kosha's , Nadi's , 3 Guna's , Ayurveda , Anatomy , 4 Ashrams , Mantra Chanting , Bhagavadgita texts  etc.
The 7 series of Asana that we teach are :
Standing series
Standing Forward bend series
Seated –Seated forward bend series
Prone series
Supine series
Inversions
Advanced
The program is well designed and based on international curriculum and teaching standards set by World Yoga Alliance.  We have certified and qualified experienced Masters having vast experience in teaching all the aspects of  yoga. The program is designed with a focus on Asana, Adjustment techniques & Methods, Yoga philosophy, Pranayama, Meditation, Anatomy, Mantra chanting. The Employee yoga program has two platforms and each model serves a different purpose.
Teachers training model for employees (11 to 21 Days program)
(Benefits)
With teachers training program an employee will be empowered in all the aspects of yoga for lifetime on all aspects of yoga with an in-depth approach
Few employees can be nominated for the program and this will change their outlook and upgrade their leadership qualities by learning and to be as a coach for other employees of the organization.
A healthy and strong leadership mind produces 100's of leaders – This will boost employee and organizational productivity multi-folds.
Your organization will not be depending on external yoga schools always as you will have many yoga personnel's within the organization.
Your (employees – now Teachers) can join hands with us for CSR activities which are the core value of every organization today.
The expatriate traveling for short to a long-term assignment in India – to your company may want to choose the program as they also respect yoga as a holy book.
Teachers training program in detail – will give them ideas on yogic fitness & health, do's and don'ts, mind control, yoga diet and healthy living, the code of ethics, ideas on meditation and productivity and balancing work and family life.
10 yoga teachers are equivalent to 100 brains.
Employees can very well use their mandatory or accumulated leaves on a productive program like yoga teachers training.
Residential /Non-residential program for 11- 21 days
Yoga retreat for employees (7 to 15 Days program)
(Benefits)
A short crash course to help employees understand basics and advance aspects of yoga
Preparatory program for those who want to practice and keep themselves healthy with an intention of practicing for their own on daily basis.
Employees who can't spare time for Teachers training can come for a short course and learn the basics and intermediate topics.
7 days relaxation program from hustle and bustle of daily life for the employees
Employees on 7 to 15 days yoga detoxification gets charged up completely
Yoga retreat model also teaches all the basics based on International standards
The attention level by teachers will be the same for yoga retreat employees
Wise use of casual/mandatory leaves will enhance their and organizations productivity.
What Our Course/Retreat will offer?
Experience and methodology to handle and lead the LED class or to coach others
Deeper insights about Hatha Yoga.
Lesson on the usage of props like blocks, belts and wall, chair in your practice with many modifications and variations of Asana with or without the usage of Props.
Add on sessions on Partner, Yin yoga, Yoga with Props and Prenatal yoga
Group and one on one attention by our teachers.
Yoga philosophy to enhance and enrich your spiritual knowledge.
An insight into Eight limbs of yoga –Ashtanga limbs
Asana theory, benefits, and limitations
Meditation techniques, Pranayama, Mantra Chanting
Kriya –Cleansing techniques
Anatomical aspects to understand Yogic science
Practicum for students
Discussion on Diet
   Eligibility / Qualifying Criteria for the Course
Practitioner with minimum 2 months to 1 year of yoga practice /experience can apply
Yoga retreat /Teachers training program can't be considered as Holiday getaway & fun holiday.
Patients with major illness or injuries not to apply or consult doctor before applying
Practitioners with a serious mindset to learn to apply.
We provide all the Training Courses and Yoga Retreats for Employees as well, please browse through all the Programs of different styles and hours listed in Yoga Teachers Training Program.
Terms & Conditions:
Admission will depend on the flexibility, age, medical condition and maturity level of the applicant to understand different subjects of the courses offered by us.